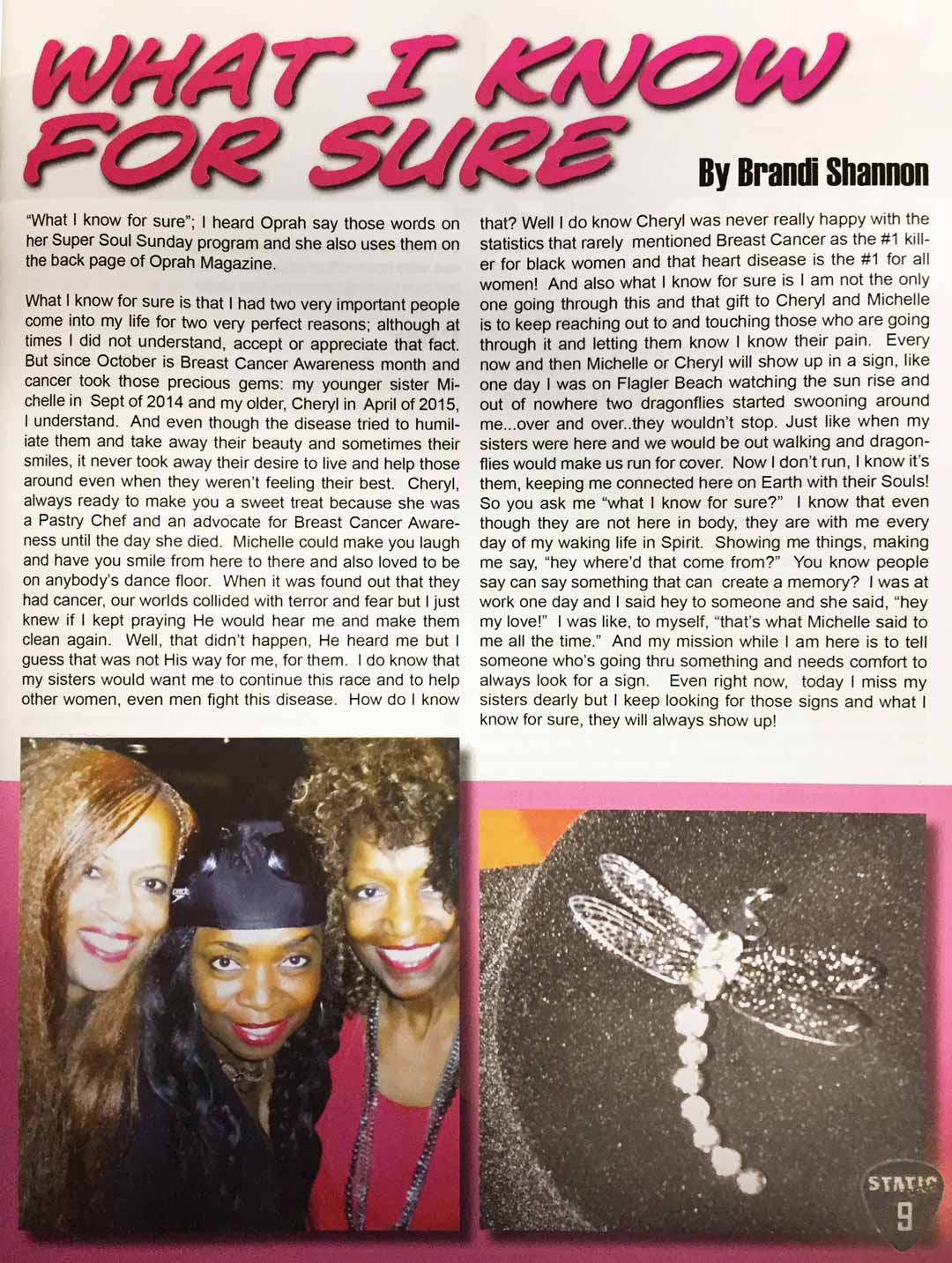 "What I know for sure"; I heard Oprah say those words on her Super Soul Sunday program and she also uses them on the back page of Oprah Magazine.
What I know for sure is that I had two very important people come into my life for two very perfect reasons; although at times I did not understand, accept or appreciate that fact. But since October is Breast Cancer Awareness month and cancer took those precious gems: my younger sister Mi­chelle in Sept of 2014 and my older, Cheryl in April of 2015, I understand. And even though the disease tried to humil­iate them and take away their beauty and sometimes their smiles, it never took away their desire to live and help those around even when they weren't feeling their best. Cheryl, always ready to make you a sweet treat because she was a Pastry Chef and an advocate for Breast Cancer Aware­ness until the day she died. Michelle could make you laugh and have you smile from here to there and also loved to be on anybody's dance floor.
When it was found out that they had cancer, our worlds collided with terror and fear but I just knew if I kept praying He would hear me and make them clean again. Well, that didn't happen, He heard me but I guess that was not His way for me, for them. I do know that my sisters would want me to continue this race and to help other women, even men fight this disease. How do I know that? Well I do know Cheryl was never really happy with the statistics that rarely mentioned Breast Cancer as the #1 kill­er for black women and that heart disease is the #1 for all women! And also what I know for sure is I am not the only one going through this and that gift to Cheryl and Michelle is to keep reaching out to and touching those who are going through it and letting them know I know their pain.
Every now and then Michelle or Cheryl will show up in a sign, like one day I was on Flagler Beach watching the sun rise and out of nowhere two dragonflies started swooning around me … over and over .. they wouldn't stop. Just like when my sisters were here and we would be out walking and dragon­flies would make us run for cover. Now I don't run, I know it's them, keeping me connected here on Earth with their Souls! So you ask me "what I know for sure?" I know that even though they are not here in body, they are with me every day of my waking life in Spirit. Showing me things, making me say, "hey where'd that come from?" You know people say can say something that can create a memory? I was at work one day and I said hey to someone and she said, "hey my love!" I was like, to myself, "that's what Michelle said to me all the time." And my mission while I am here is to tell someone who's going thru something and needs comfort to always look for a sign.
Even right now, today I miss my sisters dearly but I keep looking for those signs and what I know for sure, they will always show up!