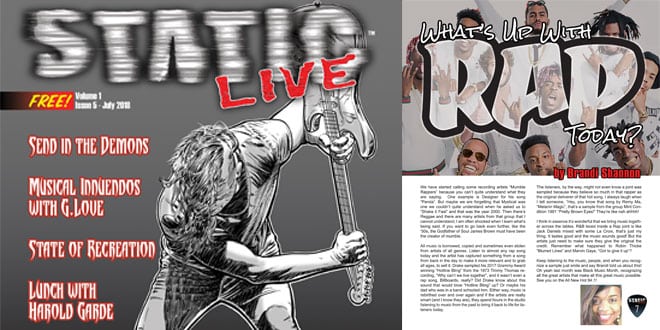 Checkout Static Live Magazine's site to read more articles!
We have started calling some recording artists "Mumble Rappers", because you can't quite understand what they are saying. One example is Designer for his song "Panda". But maybe we are forgetting that Mystical was one we couldn't quite understand when he asked us to "Shake It Fast" and that was the year 2000. Then there's Reggae and there are many artists from that group that I cannot understand; I am often shocked when I learn what's being said. If you want to go back even further, like the '50s, the Godfather of Soul James Brown must have been the creator of mumble.
All music is borrowed, copied and sometimes even stolen from artists of all genres. Listen to almost any rap song today and the artist has captured something from a song from back in the day to make it more relevant and to grab all ages, to sell it. Drake sampled his 2017 Grammy Award winning "Hotline Bling" from the 1973 Timmy Thomas re­cording, "Why Can't We Live Together", and it wasn't even a rap song. Billboards, really? Did Drake know about this sound that would blow "Hotline Bling" up? Or maybe his dad who was in a band schooled him. Either way, music is rebirthed over and over again and if the artists are really smart (and I know they are), they spend hours in the studio listening to music from the past to bring it back to life for lis­teners today.
The listeners, by the way, might not even know a joint was sampled because they believe so much in that rapper as the original deliverer of that hot song. I always laugh when I tell someone, "Hey, you know that song by Remy Ma, "Melanin Magic", that's a sample from the group Mint Con­dition 1991 "Pretty Brown Eyes!" They're like nah ahhhh! I think in essence it's wonderful that we bring music togeth­er across the tables. R&B laced inside a Rap joint is like Jack Daniels mixed with some La Croix, that's just my thing. It tastes good and the music sounds good! But the artists just need to make sure they give the original the credit. Remember what happened to Robin Thicke "Blurred Lines" and Marvin Gaye, "Got To Give It Up"?
Keep listening to the music, people, and when you recog­nize a sample just smile and say Brandi told us about this! Oh yeah last month was Black Music Month, recognizing all the great artists that make all this great music possible. See you on the All New Hot 94.1!